NIGA makes annual European Visit Promoting Tribal Government Gaming
---
National Indian Gaming Association delegation well represented at the International Casino Exhibition (ICE) in London England. In the photo L-R, Andy Ebona, NIGA Treasurer, Graf, Buddy Bartholow, NOVOMATIC, Arleen, Victor Rocha, Victor Strategies, Patricia Rocha, Debbie Thundercloud, NIGA Chief of Staff, Brook Doxtator, Cheryl Stevens, NIGA First Lady, Ernie Steven Jr., NIGA Chairman, Thomas Graf and Lawrence Levy.
The National Indian Gaming Association Visits Novomatic Headquarters in Austria
As part of the travels leading up to the annual International Casino Exhibition (ICE) Gaming gathering in London, England, National Indian Gaming Association Chairman (NIGA) Ernest L. Stevens, Jr. and delegates visited the NOVOMATIC Group headquarters in Gumpoldskirchen, Austria.
The NOVOMATIC Group is one of the biggest international producers and operators of gaming technologies and employs about 30,000 staff worldwide. Founded by entrepreneur Professor Johann F. Graf in 1980, the Group has locations in more than 50 countries and exports high-tech electronic gaming equipment and solutions to more than 75 countries. The Group operates around 270,000 gaming terminals and video lottery terminals (VLTs) in its some 2,100 plus gaming operations as well as via rental concepts.
"It is an honor to welcome Ernest L. Stevens to Gumpoldskirchen and give him an insight into our production. The National Indian Gaming Association is one of the most important organizations in the USA and is an important partner for NOVOMATIC," said Harald Neumann, Chairman of Board.
Chairman Stevens explained Tribal Government Gaming and said, "Indian Gaming is bigger than mainstream gaming in the United States. The Indian Gaming Regulatory Act (IGRA) was a compromise between Congress and our Indian Tribes. Tribes believed it took was an intrusion on Tribal Sovereignty. We don't celebrate it, but we respect it because it is the law. Native American communities have "gamed" since time immemorial and we have adapted that tradition into a modern day context."
Novomatic stressed the importance of developing long-term relationships and the need for a deeper and better understanding of Tribal Gaming and the humanitarian causes that are addressed in Indian Communities as a result. They also provided a tour of the North American Exhibit at the World Museum, which is funded by Novomatic and includes Native American Collections.
Novomatic Founder, Professor Graf also joined the group for a brief lunch and exchange of gifts. He expressed his appreciation for NIGA's visit and affirmed the company's intentions to partner with Tribal Casinos in the North American market with its vast array of products, services and solutions for the gaming industry.
The Commerce Department of the United States Embassy in London meets with the National Center for American Indian Enterprise Development and the National Indian Gaming Association
The National Indian Gaming Association started off its ICE Conference with a visit to the United States Embassy in London. NCAIED Executive Board Member Derrick Watchman joined NIGA's delegation in providing US Embassy personnel with a joint presentation on economic activity in Indian Country. Between the $32 billion in revenue generated by Indian Gaming, combined with revenues generated in other Reservation commerce such as oil and gas, healthcare, and manufacturing, Indian Country generates well over $1 billion in economic activity in the United States.
Chairman Stevens and Mr. Watchman impressed upon U.S. embassy personnel that Indian Country is open for international businesses to join them in the next wave of Tribal economic success. Chairman Stevens and Mr. Watchman talked about the methods Embassy personnel could use to help spread the word of economic opportunities on Indian Reservations. The Department of Commerce representative directed NIGA and NCAIED to their "Buyer Delegation" program to drive overseas companies towards business opportunities on the Reservations. Participation in the program will provide a worldwide platform, wherever there is a US Embassy, to let industries in those countries know about the economic opportunities in Indian Country.
NIGA and NCAIED both resolved to partner with the Department of Commerce to provide more international exposure for doing business on Indian lands.
The London School of Economics hosts a discussion on Self Determination and Economic Development: Tribal Gaming in the U.S.
Closing NIGA's first day of business in London, was participation in a discussion organized by Professor Leigh Gardner which compared gaming's evolution in the United Kingdom and contrasted it with Tribal Government Gaming in the United States.
Carolyn Downs from the University of Lancaster started the discussion with an overview of the history of the British Gaming Industry. She discussed the impacts of religion and public morality and how it led to legislation.
Leighton Vaughan Williams of Nottingham Trent University then spoke on Betting Taxation in the United Kingdom. He explained how the betting tax introduced from 1926-1960 on bookmakers by Churchill was unpopular, difficult to enforce and ineffective. In 1966 a new tax was reintroduced and was able to enforced and was more effective than the earlier tax. Off shore betting began in 2000 and gambling increased opportunities to avoid taxation. In 2003 there was a change to Gross Profit Tax (GPT) which was successful; bingo, pools betting & betting exchanges were included. Gaming machines remained outside the new tax regime, then in 2009/2010 gaming machines moved to GPT and eventually led to an increase in the number of machines allowable as the tax criteria was believed to be efficient, fair and able to maintain international competitiveness.
Dr. Gardner then gave a historical overview of gaming in the United States and then Indian Gaming. At the end of her presentation she stressed the need for statistical information from Tribes in order to show the impacts that Tribal Gaming has had, not only on Indian Communities, but Tribal Citizens lives and those communities that surround tribal casinos.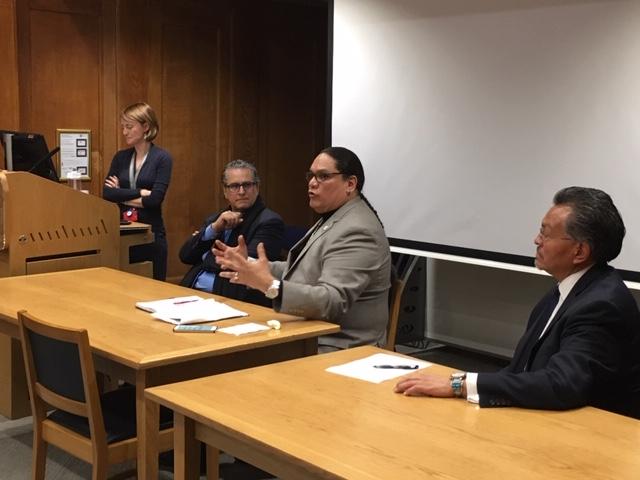 Lastly, a Panel discussed Tribal Gaming and Development Today. Derrick Watchman, Ernie Stevens, Jr. and Victor Rocha were panelists. They discussed how Tribes strived to get the most for their communities at the onset of Indian gaming and how important it was to think about the next seven generations as compacts were being negotiated with States.
The benefits of Indian Gaming were also discussed and how having the Gaming Industry throughout Indian Country spread the wealth and strengthened Tribal economies with and beyond gaming and to Tribal Nations without a significant gaming impact. The transformational and life-changing impacts that spreading the wealth through Indian Gaming meant to Native Nations and communities in education, social services, community development were also discussed. To wrap up the conversation, the panelists talked about the continuing needs in Indian Country from infrastructure, to economic development and coming back full circle; to the physical, emotional, intellectual and spiritual livelihood of Native people that has been neglected for so many generations.
The National Indian Gaming Association at the International Casino Exhibition (ICE)
On the second day of the ICE Conference, NIGA participated in the "Sports Betting in New Markets & Indian Country," on the ICE Tradeshow floor. Chairman Stevens joined newly appointed President and CEO of the AGA, Bill Miller, to provide their respective viewpoints on the gaming Industry. Chairman Stevens noted that "Indian Gaming has become so much more than just an entertainment activity. Revenues from gaming are vital to our reservation economies and provide much needed funds for police, fire, healthcare, education, and other vital Tribal government services." He used the example of his own father's care in a nursing home fully funded by the Oneida Nation and only possible after the success of gaming on their reservation. He emphasized this example of success is common to Tribal Governments throughout the Country who use their gaming revenues to provide a better quality of life for their Tribal citizens.
NIGA Executive Director Jason Giles joined an esteemed panel of his industry colleagues to discuss the future of Sports Betting in America. Moderated by Loretta Tuell of Tuell Indian Law, the panelists discussed where Indian Gaming and commercial gaming overlap, and how these two industries can work together in addressing the remaining obstacles to sports betting after the Supreme Court's PASPA decision. Mr. Giles noted that Tribal Nations face legal and regulatory hurdles at the federal level that most States do not have to worry about. He noted that States with Tribes located in their borders are not as free to legalize sports betting without engaging with the Tribal Nations within the State. Therefore, it is notable that of the 10 State jurisdictions that legalized sports betting; only one, Mississippi, has a Tribe in their state.
Chairman Mark Macarro of the Pechanga Band of Luiseño Indians in California detailed the challenges unique to the Tribes in California who are looking to pursue the option of including sports betting in their casinos. The unique challenges faced by Chairman Macarro's Tribe are endemic to Tribes throughout the Country as they look to negotiate with States on how to implement the next wave of gaming technology, and how that will correspond with a State's public policy towards gambling. Often times in the past, these negotiations were fraught with bitterness, but Tribes and States today have a much better understanding of their respective policy positions. Chairman Macarro expressed caution about the California gaming market as the State Constitution needs to be amended in order to allow sports betting and the earliest that amendment could happen is in 2020.
Sarah Slane, Vice President of Intergovernmental Affairs for the American Gaming Association, stated that the sports betting and mobile components of the gaming industry are far ahead of any federal laws or proposed federal laws. She noted that States are continuing to pursue sports betting, and the gaming industry at large continues to innovate and look to the future.
Renato Ascoli, CEO of IGT North America, noted his company's success with helping to implement one of the two Tribal sports book operations in America. IGT partnered with the Mississippi Band of Choctaw to open the first Tribal sports book in Indian Country. Mr. Ascoli was very optimistic about the future of Tribal gaming and the addition of sports betting as another form of entertainment for their customers. He also pointed out that the expansion of sports betting will not only be beneficial to Tribal Enterprises, but to society as a whole to make sports more fun and exciting for future generations.