NIGA Mourns the Loss of Lac du Flambeau Former President Henry "Butch" St. Germaine, Sr.
---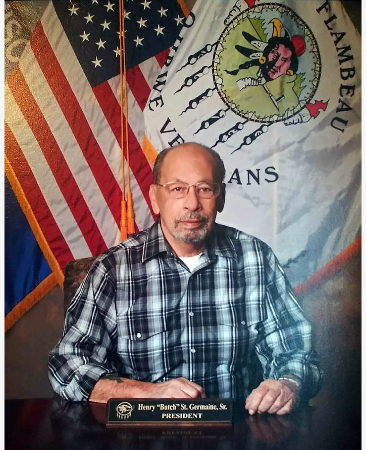 Henry "Butch" St. Germaine, Sr.
1943 – 2019
Washington, D.C. – March 13, 2019 – The National Indian Gaming Association was saddened to hear of the loss of former President of the Lac du Flambeau Band of Chippewa Indians Henry "Butch" St. Germaine, Sr.
According to a press release issued by Lac du Flambeau tribe, St. Germaine, Sr., 76, walked on to the Spirit world on Sunday, March 10, 2019, after complications of heart disease, with his family by his side.
In honor of the memory of St. Germaine, the Lac de Flambeau Tribal Council took swift action to name the Tribal Natural Resources building after Henry "Butch" St. Germaine, Sr., and will officially close tribal offices on Wednesday, March 13, 2019, in his honor.
President St. Germaine served his community in many capacities including Tribal President, Tribal Vice President, and Tribal Council Member, and he also served the Tribe and the community as the Natural Resources Hatchery Manager since 1981.
As Chairman of the tribe's Judicial Committee; St. Germaine was instrumental in the formation of the Lac du Flambeau Police Department, where he continued to be a strong supporter of the police force. In honor of his pivotal role in the formation of the Police Department, the Lac du Flambeau Police led a procession around the parameter of the community just prior to the conclusion of the services.
National Indian Gaming Association Chairman Ernie Stevens, Jr. said, "We are saddened to hear about the passing of Butch St. Germaine. He was not only an outstanding advocate always ready to serve the Lac de Flambeau community, but he was a mentor and friend to many, including myself." Stevens also shared, "It was truly an honor working for him in my earlier years as a delegate at the National Congress of American Indians (NCAI.) His commitment and professional demeanor were always an asset to moving his community forward."
Chairman Stevens said, "It was my honor to be a part of the traditional service led by Alton "Sonny" Smart, and it was a privilege to sit with the family during the ceremonial feast. On behalf of NIGA, I wrapped his wife Mildred in a Pendleton Blanket in tribute of the many years of service that Butch gave, not only for his community but for all of Indian Country."
St. Germaine's heart condition did not prevent him from his long-standing love for his family and service to the Lac du Flambeau community. Throughout his years of leadership, St. Germaine lead with the belief and commitment to stand close with his community, always visible to get the work done.
He is survived by his wife Mildred, of 55 years and his six children, many grandchildren, great-grandchildren, and nieces and nephews.
Visitation's were held on Tuesday, March 12, at the Lac du Flambeau Public School in the big gym. Services were held on Wednesday, March 13th, and concluded with an honoring feast at the Lac du Flambeau Public School gym.
The Lac du Flambeau tribe requests that donations be made to the American Heart Association in his memory.